Backstory:
I got a gun for my birthday, and it was defective
Did I ever mention that I have bad luck?
It finally gets back to the factory
faster than expected
So I took it to the range Thursday and did a function test. I took all the .44Spl I had on hand and ran it through as fast as I could.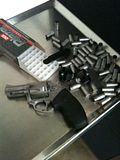 Here are the first impressions:
First off, it has a bit of a kick to it.
It was accurate enough if I did my part. The trigger was great on Single action, and heavy and stagy on DA. If I kept the concentration up, the bullets went where I wanted them to go. I am in the process of giving it a 'poor man's trigger job': dry firing the crap out of it.
Now, here is the gun porn (no, I did not clean it before the sshoot. Sue me.)
All in all, I recomend this gun. I understand that a bad product can make it out of the factory. The fact that Charter Arms took care of me as a customer better than many MUCH larger and 'bigger name' companies. They got it fixed FAST, and it cost me nothing more than a few days.
If you are looking for an easy to carry wheelgun for low cost, look at the Charter Arms line. I know I am now adding one of the 'Pathfinder' .22s to my short list as a utility shooter.